Announce your life together in style!
Your life together, your wedding, the arrival of your baby, a graduation of your eldest is a very special time in your lives, now you can share these times with ONE website. The Weston Graphics Couples Theme is a niche custom website that is perfect for the most special announcements in your life as well as keeping your family and friends "in the loop" of your activities. Click on the demo site below and take the Couples Theme for a test drive.
The Couples Theme is perfect to:
Share your lives with family and friends
Announce your wedding
Announce the arrival of your baby
Share your travels and events
Share photographs
Getting started is so easy!
Pick a domain name for you site, fill out a simple form, we do the rest! We will also teach you to edit your own site, create image galleries, blog posts and more, if you can use a word processing program, you can publish your website. If you can't, don't worry, your site comes with a team of web designers that will do the work for you! Why not stand out with a professional website designed to be aesthetically pleasing and fully functioning with the latest in website design technology? Now you can…
.US domain names
We are able to purchase .us domain names on your behalf. Imagine sharing your own couples site that ends in .us rather then .com. Most name combinations are available (for example JackandJill.us). We offer a FREE domain name for the first year of service.
[hr]
Demo Site: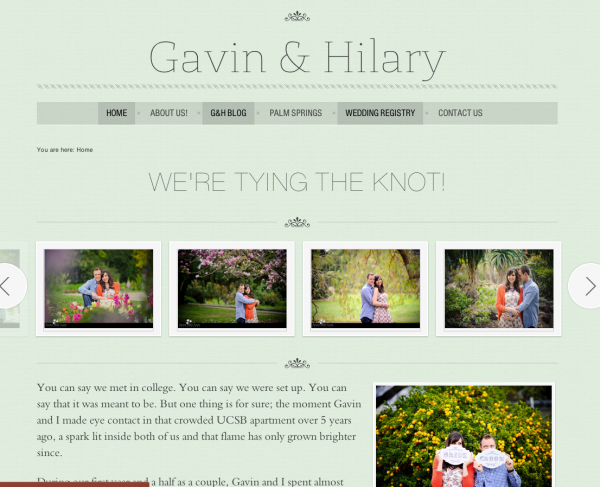 [hr]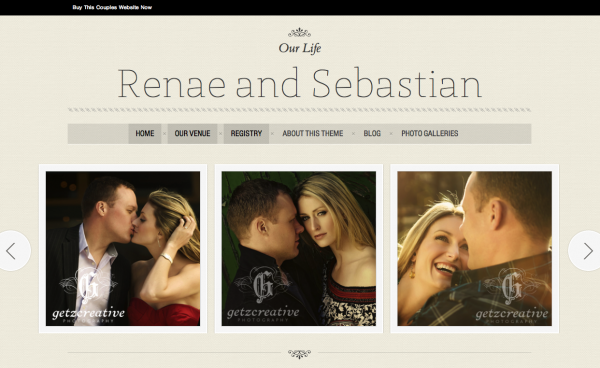 [hr] [twocol_one]
Screen Shot of Optional Baby Announcement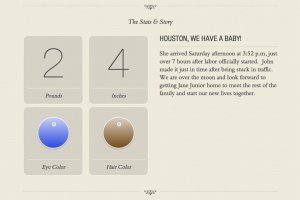 [/twocol_one] [twocol_one_last]
Screen Shot of Baby Slider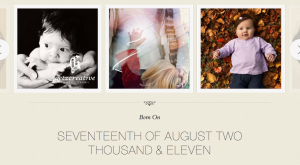 [/twocol_one_last] [hr]
Features and Benefits:
Beautiful Custom Website Design
Website Hosting, Software Updates, and Site Maintenance
Domain Registration FREE for a year (e.g., JackandJill.us)
Content Management System, YOU control YOUR site as much or little as you want, we do the rest.
Google Email for your domain name – yourname@JackandJill.us (up to 10 users)
Contact Form – Safely let your friends and family contact you online
Monthly Website Statistics – See all analytics on your site use
Automatic Search Engine Optimization – Built in SEO – Rank on the Search Engines just by adding content to your site.
Photographic home page slider, showcasing you!
Countdown to your event displayed on the home page
Baby Statistics Grid – If you are announcing a birth, we have the component for the occasion.
Gift registry
Flickr account connections
Complete social media connections included – Facebook, Twitter, YouTube, LinkedIn, etc
[hr]
No Frills Pricing –
Special Discounted Pricing
We do it ALL for you — we completely install a professionally designed website system, we add your supplied content, we set up your email account, we connect to your social media accounts, you will be live in no time. This is a fully managed solution, you can control as much or little of the site as you wish. No brain damage here, we have you fill out a quick questionnaire, your NEW website will be complete in a few days!
Pricing Option One – Lower monthly payment:
One-Time Website Set-up and Start-up Fee: $499.95  $250
Site Management Fee: $59.95 $19.99 – Includes maintenance, Updates, Virus Protection, Site Upgrades and Web Hosting (NO CONTRACTS, NO COMMITMENT)
Pricing Option Two – No start up cost
Website Set-up and Start-up Fee: $0.00
Site Management Fee: $59.95 $39.95 – Includes maintenance, Updates, Virus Protection, Site Upgrades and Web Hosting (ONE YEAR COMMITMENT)
Let's get started today, click your option below and sign up now!
2 Convenient Pricing Plans
Lower Monthly Payment Option 1
No Setup Payment Option 2
One Time Start-Up Fee
$500 $250.00
$0.00
Monthly Fee

$39.95

$19.99
$59.95 $39.95
New Domain Registration
FREE – one year
FREE – one year
Blog Function
YES
YES
Social Media Connections
YES
YES
Custom Stock Photography
YES
YES
Edit, Add, Delete Content
You Control Your Site
You Control Your Site
Customize Layout Options
YES
YES
Theme Color
6 COLOR CHOICES
6 COLOR CHOICES
24hr Support
YES
YES
ORDER
ORDER
Need more info that you don't see here? Contact Us
At Weston Graphics Internet, we pride ourselves on developing beautiful professional website designs that stand out for their elegant design, useful content, and effectiveness in attracting clients, not to mention the nice fit into your budget. Our websites are tailored to reflect the unique and distinctive qualities of our clients and their services. The best part is that you are in full control of your own site. If you can send an email, you can create or edit a page on your Weston Graphics designed site.
Our design process is an all-inclusive solution. We will assist you in registering a domain if you do not have one, we will set up your new couple site, create a color theme, we will train you on how to add your content if you are a hands on do-it-yourself type, else we will maintain your site completely. We will work together with you to build, manage, and market your website on the Internet.