Printed Collateral
---
Leave an Imprint – In Print
We want to offer your audience an emotional experience though interaction with the tactile pieces we produce.
Weston Graphics delivers one of a kind printing solutions and traditional budget solutions for companies both small & large, since 1989.
Printing at GREAT Prices.
We have 1000's of print products at affordable prices on our online web printing portal. From Business Cards to Banners, move your audience with a cost effective solution.
Order Printing Here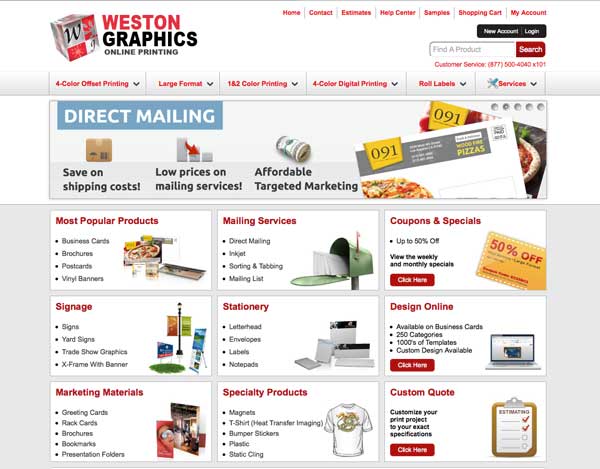 When you need the best…
We deliver the best in traditional and digital printing and color. From one of a kind marketing collateral, to high end packaging, we will exceed your expeditions every time.
Custom Graphic design and Printing
Weston Graphics offers a wide range of creative print production services, from graphic development—design, company logo design, postcard marketing, printing flyers and illustration—to copywriting and document design. See it all on our dedicated Printing and Design site. We know you demand versatility, and even in our print production we keep your online presence in mind. With our integrated approach, you'll never have to worry about your company's brand identity transitioning smoothly from print to your website.
---
Our printing services include:
    Posters, Postcards and Direct Mail Materials
    Package Design & Printing
    Book Cover Design & Printing
    Billboards and Print Ads
    Catalog Design & Printing
    Apparel Graphics & Printing
Get Your Project Started Today.
The experience starts with a one-on-one call with a principal of the company. Let us help you map out a solution. We take care of the details so you can do what you do best.
Start Today
---