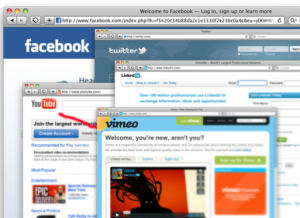 RSS Feeds, Facebook, Twitter, LinkedIn, StumbleUpon are icons which appear on 95% of every website you visit. Social Media is not just one entity it is multi layered and interconnected. Each social network stands on its own as a social networking tool, linking them will maximize their ability to reach a larger audience making it much more effective.
Like it or hate it you cannot ignore the impact that social media networks can have on your business, without utilizing one another they aren't as effective. Since social media is still relatively new, there are few industry-standard ways to monitor or measure any of it. Though they say it takes a village to raise a family we say it takes awareness to market your brand and with little know-how, you can use social media as your #1 marketing tool to deliver a new level of leads, recommendations and gain sales.
Driving business using social media can be a complex and diligent process, but it doesn't have to be as there are companies out there that specialize in helping large organizations to create consistent branding and imaging across social mediums. Yet, even if you're a small business the key is relative and enables you to compete in the larger markets – to have something for your audience once they get there is the key. You aren't going to close a deal in 140 characters and people aren't going to find enough information on your Facebook page to decide to purchase from you or the larger companies. So, if you utilize your web site and blog as hubs to feed information about your products, you can notify people and draw them in to interesting features through your social media channels, i.e., Tumblr and RSS feeds.
Monitoring and responding to conversations about your brand can be an important part of your marketing strategy as well. Once a brand is established, it's not difficult to run searches in a number of mediums. Google searches and monitoring will find folks talking about you on LinkedIn or Facebook. And Twitter has a very elaborate search, using hashtags (the way they categorize things for example, #westongraphicsinternet) and usernames. Creating a channel for real customer service, publicly responding to both positive and negative feedback shows your clients that you really do care. Social Media isn't any different from the "real world" in that respect. Yet, there's always the "take the high road" approach, too.
Social Media now reaches the majority of Americans 12+, with 52% having a profile on one or more social networks. This figure is driven largely by Facebook, which is now used by over 51% of Americans 12+.

Twitter is as familiar to Americans as Facebook (with 92% and 93% familiarity, respectively); however, Twitter usage stands at 85 of Americans 12+. Approximately 46% of Americans 12+ now checks their social media site and services several times a day.
These statistics do not lie – a social presence gives your online brand the credibility to attract clients by engaging your audience, making yourself available and demonstrating experience. Yet, be that as it may, we cannot stress enough that you must use the social media tools continually and consistently to ensure staying power with your customers and to perpetuate new business.
* Statistics taken from The Social Habit is a new study conducted by Edison Research and Arbitron, and is derived from the 19th Edison/Arbitron Internet and Multimedia Research Series, one of the longest-running studies of consumer adoption of the Internet, new media and other technologies in existence